2cv6 Dolly 89km
€ 69.500,-
1989
Rouge Delage/ Gris Cormoran
89 km
We have already had many unique 2cvs through our hands. With beautiful stories, special models or from a faraway country. With almost no kilometers on them, from the last day of French or Portuguese production, or from the very first year of construction. This 2cv brings together 3 unique qualities.
It has only driven 89km!
It is the only Dolly factory supplied in this color combination, as far as we have been able to determine.
Never before have we come across a 2cv custom-made to this level by the factory. Couture instead of prêt-à-porter.
In '89 the dealer from Romans in southern France ordered two new 2cvs for his children. A red/black Charleston and this Dolly in Gris Cormoran and Rouge Delage. They were delivered in '90, registered in '92, after which they were stored until son and daughter wanted to receive them. However, they didn't like the concept, perhaps they preferred to drive a little more powerful.
The cars only saw the light again in 2017. Both were offered at an auction at Rétromobile in Paris, with 40 and 20 km on the clocks. In completely new condition. They both found new owners.
Why didn't you buy them at the auction back then, Sander? Well, I really liked the Dolly and requested more info from the auction house. The answer to my questions about history, originality and condition was so evasive that I did not have confidence that Citroën had originally intended this model that way.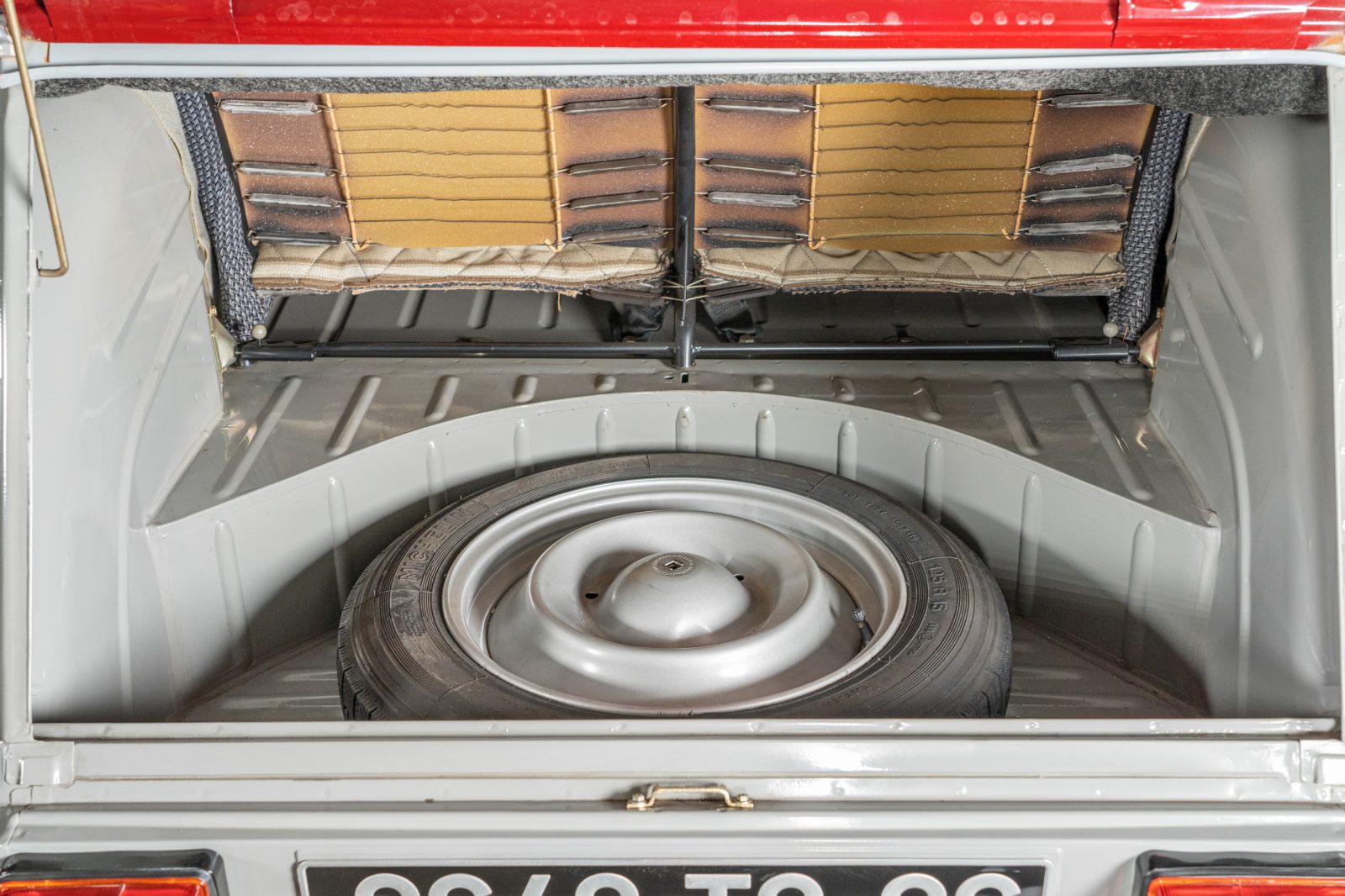 We have seen 2cvs in the Netherlands and Germany that were unsaleable due to their color or damage and of which a dealer made a special model; just spray some parts or fit some stickers.
A foreign customer of ours did buy the car, however, because he liked it so much and wanted to enjoy driving it. It got new fluids and battery, and it went on the road for 69km. Only he couldn't get it registered there and we were asked if we still wanted it in the showroom. Yes, that seemed like an opportunity to do some homework after all.
Upon arrival, we immediately checked all the details and measured the paint thickness. The color and quality check stamps are set by the factory, the different interior is built up exactly like all the others and the paint thickness indicates that both colors are the first paint.
The Citroën archive also provides the delivery note with a number of codes. These indicate that this 2cv6 Spécial was ordered with separate fabric front seats, in gray and Rouge Delage paint, and with a code that indicates that it is a special order. A lot falls into place with this, Citroën intended it this way!
It would have been even nicer if we could have spoken to the dealer and he could have contributed photos or other information, but an archaeologist often has to work with what he finds and draw the most plausible conclusion from it. Our conclusion is that we have encountered a more unique 2cv than we initially could think.